Free Shipping $99+

action="https://www.paypal.com/cgi-bin/webscr" method="post">
USA Only (Details)
Polaris IQ 440 trail conversion NOTES
Join our facebook group Polaris IQR AxysR trail conversion group

Please take a few minutes to read through all of these notes.
We have countless hours in research and development to bring all of this information to you. All we ask in return is that you make your purchases with us so we can continue to expand this site.
If you still have questions that we have not answered on these pages then please click on the link for tech support and fill out all of the information.
When you're ready to make a purchase give us a call and we can get you set up with everything you need
and back it up with our tech support. You can also click on a link and purchase right off the web site.

The list below are notes, settings, specifications, adjustments, and modifications we use to trail convert the Polaris IQ 440's. They're are many things that need to be done to convert these sleds correctly, not just a low compression head and a bigger fuel tank. If you do this right your new ride could be the most fun you have ever had on a sled!
CARBURETOR SETTINGS and JETTING:
Most 440 race sleds run about 220 main jets with the 110 octane head. The 92 octane low compression head comes with jetting chart recommending 340 mains jets at 0-2000ft of elevation at -10 to 30 degrees Fahrenheit. We recommend dropping approximately 4 sizes down from the recommendations on that chart or use the one we have below instead. 280-300 main jets give us the best performance and we recommend starting with 300's. There is a lean spot in the mid range so we installed a different set of jet needles to solve that problem and we always run the e clip on position #3. Update, the jet needles are NLA so you may consider lowering the e clip to raise the needle up and see if it helps. Check your carb slides for cracks while your doing it.
HIGH ELEVATION: We jetted to 200 mains for the mountains 8000-1000ft and dropped the jet needles all the way down, e clip in position #1 (from the top). You will also need to run lighter weights like S43H and a new primary spring like an EPI 145-300 or a Polaris 140-320 or 140-330. We run stock gearing, 2.36 ratio.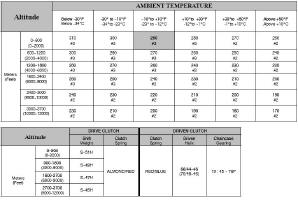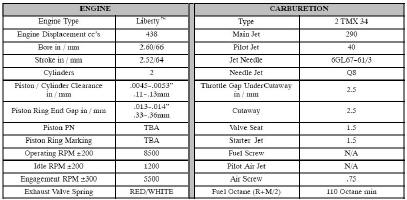 We use 3 or 4 pedal carbon fiber reeds for the best performance in a 883 or 904 style V Force reeds cage. Moto Tasanari says do not use the dragon button-it will tear up the reeds and they are is right. We always remove the dragon buttons. They actually make a new fiberglass reed if you plan on using the dragon button but we really don't recommend it. The carbon fiber reeds perform better than the fiberglass ones.
Caution: Check your carb adaptors on all 440 and 600 engines. Many have separated between the rubber and metal and will leak air causing a lean condition resulting in a blown engine. Polaris actually had a recall for them on the 600HO's. Replace defectives with the upgraded ones here .
Click on the pictures above to view the jetting and clutching and specifications for the '05 IQ 440.
CLUTCHING:
Primary spring 165-310 (Polaris almond/red) with S49H weights. Secondary clutch spring 140-200 (Polaris red/dark blue) with stock team helix on the 66 ramp. EPI springs work great too and are here .
GEARING: Gearing Chart 1 Gearing Chart 2
I think the gearing charts read about 10% high.
Stock gearing is hyvo 19:45 and will run about 60-70mph depending upon snow conditions. We ran 21:43 and switched to 3/4" gearing and chain so we can get to around 75-80mph. Top gear stock on '05's is a 15 or 7/8" wide and so is the chain. Bottom gear is 3/4" and may rub against the chain case cover on '05's so just grind it out to clear or switch to 3/4" gearing.
SKIS and CARBIDES:
We took off the C&A skis to change to the Polaris stock snocross ski. Skis are available here . We did this to get a full length carbide and also so they are easy to find/replace at any local shop along the trail. We have used 8" and 10" carbides. The 8's steer easier but the 10's do give more control in most situations. Many trail rider will be just fine with 6" carbides.
SUSPENSION:
Shocks have been revalved with specs from Walker Evans. Available on the suspension page (close to Pro XR set up but softer than the 600RR) The set up works awesome for a 180lbs rider. '07 torsion springs or titanium ones are best for the rebound on the rear skid. The stock front track spring was a 160# and we put on a 140# one for a softer ride. We also did a 150# (130# for lighter riders) for the arms instead of the stock 170#s on most models. This set up is pretty comfortable on the trail and still allows the rider to catch some air without bottoming out to bad. We also put on the 07 front limiter straps on the '05's to allow the front of the track to touch the ground and relieve a little ski pressure. On the '05's, drill out the next lower front torque arm mounting location on the tunnel and lower the arm and recheck your limiter straps. If the track is too tight remove rear idler wheel axle and take the plastic spacer blocks and grind them down in one spot where they will hit the front of rail slot. This will allow the spacer blocks to move further forward before they hit the adjuster bolts. If that doesn't solve the track tension then you may have to cut away some material from the rail to allow the rear axle to move further forward. At some point your wheels may touch the rear bumper pivot arm. If so move the arm forward to the next hole. We add 6 wheels to the suspensions to eliminate hifax wear. We recommend at least 4.
Track: We fully clip all our tracks or buy them that way and always use tall nuts on the studs with double backer plates for more stability. Our #1 favorite track is the 1.5" Camoplast Intense. Our 2nd choice is the 1.352" Cobra.
ENGINE:
Oil Injection :
We defiantly recommend doing this. The 440 oil pump can be added without pulling the engine. Yes, its easier when the engine is out or tipped forward. You just have to pull the air box and the carbs off. Taking off the secondary clutch helps too. Remove the cross shaft cover, hook up all possible oil lines and the throttle cable onto the pump while setting the index points on the pump arm. Apply a small amount of grease to the new gasket and stick it to one of the surfaces. Then align the pump shaft ears with the cross shaft and slide it into place. Next, put the top bolt in with your fingers until its almost snug but leave it loose. Now using some small fingers place the last bolt in between you index and ring finger on your left hand and carefully move your hand around the back of the pump searching for the bottom hole. If you drop the bolt use a magnet to retrieve it. Once you get it in tighten up the bottom bolt first then go back and tighten the top one. It takes a short 8mm/5/16" socket with a 1/4" swivel and a couple extensions. Don't forget to hook up the rest of the oil lines to the carbs before placing them in the adaptors. The PTO/Clutch side outer bearing should have a grease zerk and it should be left alone. It is injected with the correct amount of grease from the factory. Do not attach a grease gun to this fitting as you can blow out your seals pumping in grease. If you have to add grease, do so with a hand squirt tube. When installing the cable into the carbs make sure the plastic spring guide gets lined up in the groove of the keeper nut otherwise it wont pull full throttle and you can damage the cable if you force it. You can also trim down the springs if you have too much throttle tension already, but test first.
Oil injection kits are here . See throttle cable installation tips here
92 Octane Low compression head:
Purchase and install the 92 octane head kit and set your timing switch to G. The paperwork provided in the kit is out of date as it says for '02 440's. See electrical below for more details. The paper work also says to run 340 main jets and those are about 4 sizes too rich for most. We found after installing the trail head our compression dropped 25psi per cylinder but the sled still has plenty of power. If you cant find 92 octane or higher without ethanol then a mix of race fuel will work or 91 with a good octane booster. The squish on the 92 octane trail head reads about .070 with stock pistons. If your head reads less than that then it is probably a race head intended to use with 110 octane only. Low compression heads are here
Premix:
Originally we mixed our oil 32:1 or even 20:1 if we were really going to be in the R's that day. Purchasing and installing the oil injection kit is the best option by far. If you plan on running the engine on premix for a long time we recommend Polaris racing oil or Maxima Tundra R. There is also a recommended top case mod, drilling a hole in the clutch side top case half under the pto side cylinder to allow more lubrication flow to the left center bearing. This still wont provide the proper lubrication to the cross shaft like oil injection does.



We also recommend rigging up a primer kit to an oil tank to lube the cross shaft and center bearings. The inlet is already on the case. This is very easy to do.
Engine heat: We always add the extra rear heat exchanger to keep the engine cool.
ELECTRICAL: wiring diagram
Timing box: All 440 trail conversions using a 92 octane had kit need to have one of these and it should be set to G. The 92 octane head kits have instructions form '02 in them telling you to set it at E but that is not the case with '05-'07's. '05's came with the timing switch. If you have an '06 or '07 you will need to buy the timing box -it plugs right in by the CDI. Timing is as follows:
a +3 (degrees from the default setting) b +2, c +1 , d is 0, e -2, f -3, g -4
We highly recommend adding a Trail Tech Voyager Computer with GPS for temp, tach, speed etc.
EXTRAS:
Skinz knee pads. These aren't just a wimpy pad. They have a thick neoprene feel to them and work great.
Our large clutch cover bag.
We also used a Polaris handlebar bag for any extras. Skinz also just made a low profile tank/map bag.
Under hood bag
Polaris hand guards and mounts
Handlebar risers
RSI large handle bar pad
Cargo net for rear of tunnel

We have a lot more products and information available for our customers. Contact us with your needs.
All the parts listed above are available from us starting HERE and backed up by our tech support
We stock some and can get all OEM Polaris parts too.
We can sell, service and install anything you need for your sled however we will not give out any part numbers, research, reference or trade information so please don't ask.
IQR Technical Riding
shirts now available
SORRY, SOLD OUT
see Arctiva Layering

JS Powersports would like to thank the following for sharing their time, dedication and tech notes:
The entire Polaris race department, Tom Whitstine aka AkIQPilot on HCS, Ean Kuhlmey aka Anger890 on HCS and Craig Horak aka autolodge on HCS.